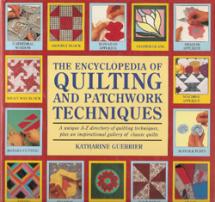 The Encyclopedia of Quilting and Patchwork Techniques
Headline Book Publishing.
1994
Indbundet.
176
ISBN 0-7472-0849-2
Bogen er inddelt i emner f.eks. materialer – blokke – brug af skæresæt – seminole patchwork osv. Emnerne er nemme, og bogen er overskuelig. Også quiltere, som ikke er "stærke" i engelsk kan have glæde af bogen.
Meget fint tryk og klare billeder..
Grete Højer. Boganmeldelse i Kludemagasinet 3/1995
Tilføjet i 2009:
A unique A-Z directory of quilting techniques, plus an inspirational gallery of classic quilts.
Forord:
The origins of quilting are lost in time but it is as popular today as ever, combining as it does shortcut techniques for stunning results with a sense of tradition that reinforces our links with the past. Illustrated with precise step-by-step photographs showing how excel-lent results can be achieved, and including many finished examples. The Encyclopedia of Quilting and Patchwork Techniques details a huge variety of traditional and modern techniques, including all you need to know to start quilting – equipment, fabric and basic sewing requirements.
There is special emphasis on shortcut techniques such as rotary cutting and speed piec-ing, clearly showing how to make all the basic shapes needed for a wide variety of block designs with a basic rotary cutting kit.
The construction of traditional block designs like Log Cabin, Seminole, and Flying Geese is explained, as well as all the basic quilting techniques such as sashiko, contour, shadow and corded. Appliqué methods such as Hawaiian and reverse are dealt with in detail, and the many ways to achieve intriguing and unusual special effects are explored. Throughout guidance on machine versus hand quilting will be given to ensure professional results whatever your preference or level of experience.
The final section of The Encyclopedia of Quilting and Patchwork Techniques is a visual feast of quilts, old and new, from around the world, showing how the techniques explained in the first part of the book can be used to interpret your creative ideas.
After training at art college Katharine Guerrier taught before completing various courses in textiles, including a course in design and embroidery. She has been producing quilts since 1980, drawing on traditional influences from both sides of the Atlantic, and her work has won many first prizes and she continues to exhibit and teach workshops.
Anne Walker, the technical consultant for the rotary cutting section, is the Education Officer for the Quilters' Guild, England, and runs a patchwork supplies shop as well as teaching.